Acknowledgement of Country
The Coalition of Coastal Communities acknowledges Aboriginal people as the First Peoples and Nations of the lands and waters we live and work upon and we pay our respects to their Elders past, present and emerging. We acknowledge and respect the deep spiritual connection and the relationship that Aboriginal and Torres Strait Islander people have to Country.We work in partnership with the First Peoples of South Australia and support their Nations to take a leading role in caring for their Country.
The Coalition of Coastal Communities consists of representatives from community groups representing the localities of Port Gawler, Middle Beach, Thompson Beach, Webb Beach, Port Parham and Dublin.
It is given that visitation to the coastal areas is on the increase, and even more so as we see a significant population increase in the Two wells and Virginia areas.
The challenge is to manage this visitation and provide facilities for visitors without overwhelming the current coast population.
The Coalition meets monthly to develop consistent strategies across the area.
ISSUES FOR CONSIDERATION
There are a number of contributary factors that influence the development of the area. These include
• A lack of funding for the Adelaide International Bird Sanctuary
• There is no interpretative centre to guide local and international visitors to bird watching areas
• Lack of access to appropriate viewing areas
• A lack of an appropriate and recognisable brand for the area
• Lack of suitable accommodation for local and international visitors
• A lack of welcoming environments
The strategy of the CCC is to address these issues by promoting suitable projects. This is promoted by suggesting overall projects and community based projects which support the objectives.
The current lack of funding for infrastructure projects requires that CCC and APC need to lobby key politicians and private enterprise to unlock such funding.
Relocation of the
"Highway 1 Protest Statues"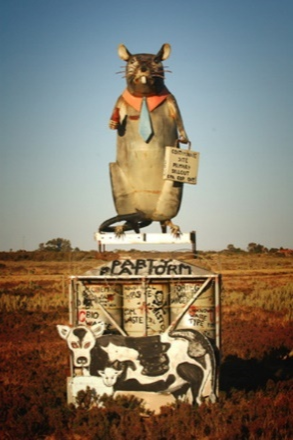 Since 1998, travellers on Port Wakefield Highway (National Highway 1) have been distracted by seven large "Protest Statues" just north of Lower Light. The statues were manufactured locally to draw attention, rightly or wrongly, to the impending development of a nearby waste dump. The waste dump was eventually built, but the statues remain.
The landowner on which they reside now wants them removed, and unless a suitable location is found they may be reduced to scrap metal. Building on their iconic status, the statues could be moved to a secure location that will not only ensure their survival, but will attract tourists to stop and admire their construction and purpose.
The CCC believes that a location in Dublin close to the highway would encourage tourists to slow down and visit the town. There are two thoughts behind this. The first is to encourage more tourist dollars to Dublin, which boasts an hotel, butcher, baker, general store/café, laundromat and service station amongst other utilities. The second is to draw attention to an adjacent, yet to be built, interpretive area highlighting the attractions along the Shorebird/Samphire Coast*.

The ECHO articles details the latest progress